Customer Driven. Community Focused.
At First Bank Kansas, we are "Small enough to know you by name, and large enough to provide the services and products you want." First Bank Kansas is proud to have an executive leadership team who understands that giving exceptional service to our customers is the key to our success. Each member of the leadership team brings a unique background and set of skills and experiences and their shared commitment to excellence sets the standard at First Bank Kansas.
FAMILY OWNED AND LOCALLY MANAGED
We take pride in being family owned and locally managed, which gives us the competitive advantage to easily adapt to the needs of our customers! Having the flexibility to make local decisions based on the customer's needs has given us our long-standing reputation for exceptional customer service.
COMMITTED TO OUR COMMUNITIES!
First Bank Kansas is proud to join our friends and neighbors in building stronger and more vital communities. We actively support many local non-profit organizations in our communities as well as funding education programs, supporting local universities, and lending a hand to charitable and faith-based organizations.
Meet Our Executive Leadership Team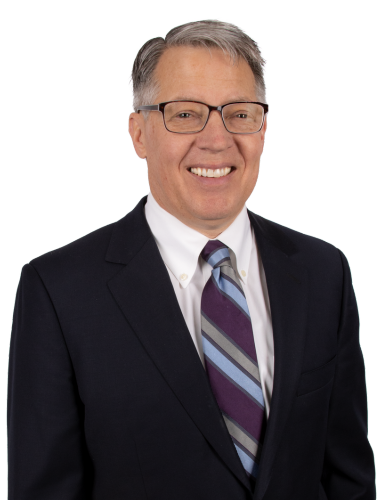 Kent Buer
President and Chief Executive Officer
Kent joined First Bank Kansas in 1999 and loves to work with the team he helped build. Kent is engaged in strategic planning and execution, risk management, business development, talent acquisition and retention, and is also heavily involved in the Salina community and in the region. His passion helped to create, and continues to nurture, a corporate personality (culture) that is hungry, humble and smart, where colleagues thrive and which results in customers who are delighted. Communication is very important but is also a challenge with different generations working together across several communities. The payoff is seeing teammates grow with the organization along with the building of relationships with customers who enjoy First Bank Kansas' genuine approach to throw back customer service that strives to deliver an exceptional experience.
Faith and family are important to Kent and wife Marcy. They have discovered that being grandparents is not overrated. With their son's family in Alaska, and their daughter's family in Colorado, vacations often revolve around the whole families' love for the great outdoors. They concur with the late John Muir who believed that wilderness is a necessity in our over-civilized society and who wrote, "And into the woods I go, to lose my mind and find my soul."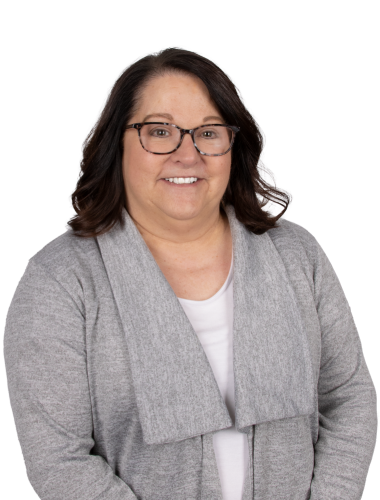 Angie Eilrich
Executive Vice President and Chief Operations Officer
Angela Eilrich (Angie) began her banking career with First Bank Kansas in 1981. Over the years, she has held various positions at the bank in the areas of teller operations, bookkeeping, compliance, audit, human resources, marketing, information technology, product development, project management and training. Today as a Board Member, Chief Operations Officer and Board Secretary, Angie is privileged to work with all areas of the bank. Angie completed the Graduate School of Banking at Colorado in 2006. Her primary goal is to develop competent and professional employees that can sustain the bank for years to come! Angie especially enjoys Project Management because she loves to organize and help the team succeed.
When not at First Bank Kansas, Angie enjoys spending time with her husband, Kevin, working on church projects, traveling and spending time with their large and very close extended family. One thing you won't find her doing is spending much time in the rugged outdoors; she's a city girl who thinks "no room service" is roughing it!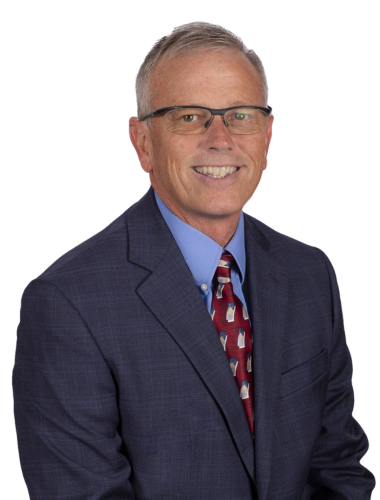 Curt Glaser
Executive Vice President and Chief Lending Officer
Curt graduated in 1986 from Kansas State University with a Bachelor of Science degree in Agriculture. During this time, he has forged many long-term relationships with his customers, friends, and neighbors while helping them to achieve their financial goals. He started his career as a loan officer in Hiawatha, Kansas, and later moved to McPherson as an Ag Lender. He joined First Bank Kansas in 1992 as Ellsworth's Branch Manager and Lender. Over his 31 years with First Bank Kansas, Curt has been instrumental in the bank's growth in Ellsworth and surrounding communities. He has held several positions within First Bank Kansas, advancing to his current role as the Chief Lending Officer.
Curt's creative style of lending and always looking for "Ways to Say Yes" has contributed to both his and his customer's success. He very much enjoys working with both small and large customers. Today he continues to see customers and spends a great deal of his time mentoring and growing the lending department of First Bank Kansas. Curt enjoys being involved in the Community, especially anything to do with Economic Growth. Curt, however, is not a typical banker as he does not play golf but, in his spare time, enjoys spending time with his wife and family on their farm in rural Ellsworth. He also enjoys traveling, reading, and currently learning to play Pickleball.
Bauer Financial 5-Star Rating
First Bank Kansas has earned Bauer Financial's 5-Star Superior rating for financial strength and security. This rating recognizes First Bank Kansas as one of the strongest financial institutions in the nation. As a 5-Star Bank, First Bank Kansas is included on Bauer Financial's Recommended Bank Report with other institutions classified as financially sound and operating well above their regulatory requirements.
Bauer Financial, Inc., based in Coral Gables, Florida, has been analyzing and rating the performance of U.S. banks and credit unions since 1983. No institution can pay for or opt out of a ranking. Over the years, this rating system has gained the trust and recognition of regulators, bankers, and consumers.
Board of Directors
Kent Buer, Chairman
Mark Sutherland, Vice-Chairman
Brian Boyer
Angie Eilrich
Curt Glaser
Clayton Huseman
Stephanie Klingzell-Carlin
Cheryl Murray
Jacob Sands
John C (Chris) Short
Michael Sutherland
Paige Sutherland
Advisory Director
Matthew Sutherland